DEADLINES
New deadlines apply for submission of research proposals in response to four open calls: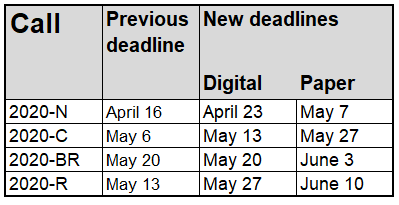 The digital deadline has been postponed for most calls. The exception is Call 2020-BR, where we keep the deadline of May 20 in order to be able to take decisions in June 2020, and have projects starting after the summer.
The deadline for the paper version is now generally set two weeks after the digital version.
SIGNATURES
The paper submission requires original signatures on Form B of two persons: the principal applicant and an authorized person of the university/institute. Despite the extra two weeks, we realize that it may be difficult to collect these two signatures on the same piece of paper. We therefore now allow Forms A and B to be submitted independently in two copies, one from the principal applicant with her/his signature (preferably as part of the full paper proposal) and another sheet of paper submitted from the department/institute containing Forms A-B and an authorized signature. This is a generalization of the previous rule used for work at multiple sites. For details, see page 3 of the revised Technical Guide (dated April 6), now available with the four calls.
ADVICE
Please don't use the extended deadlines as reason to delay your work on the proposals. Instead, we suggest you use the extra time as a buffer after your nominal schedule, to be used as margin in difficult times. Concerning the deadline for the digital copy within the four calls, SNSA will reject all individual requests for deadline extensions due to corona-related problems or illnesses.
NEW INSTRUCTIONS
New instructions (dated April 6) are now available at the normal web page (https://www.rymdstyrelsen.se/forskning/utlysningar/). The only changes compared to the original documents concern two documents:
• New deadlines on the front page of the instructions for individual calls.
• New rules for signatures on page 3 of the Technical Guide 2020.
OLD INSTRUCTIONS
If you have already downloaded the original documentation for a call and you are able to comply with the rules therein, then you can follow them as planned, and can safely ignore the new information provided in the revised instructions.